There is always a first time! The case with starting a Cryptocurrency Trading Platform is also not different.
Cryptocurrencies made a huge steep in recent years and the list of cryptocurrencies and cryptocurrency exchanges are increasing at a faster rate. The need of cryptocurrency trading platform is unavoidable as currency exchange houses and cryptocurrency transactions are equally important in the digital currency era.
CryptoSoftwares provides excellent cryptocurrency exchange development services
There are certain things that a beginner should know on how to start a cryptocurrency exchange platform. We will be dealing with all this in this blog here.
Read below.
Steps to Start a Crypto Exchange Business
Starting a cryptocurrency exchange generally involves six necessary steps. They are as follows:
#1. Decide on your location of the business
The first step that you need to take before you start a Crypto exchange is to choose a location which you are planning to do business. It may be a specific region or a group of countries altogether. This plays a crucial role. Do thorough research about the place you are choosing to implement your business. It should be a place where your business has all the opportunities for your business to prosper.
#2. Complete all the legal formalities required to do business in the selected location
After choosing your location, make sure you next finish up all the legal formalities. The region in which your business operates must be required to get proper licensing and regulations to start Cryptocurrency trading platform. It's always better to consult a lawyer so that they know what are the formalities to be completed before starting a cryptocurrency exchange. Rules and regulations vary from place to place, so make sure your business always stay legally up to date with the local legal formalities.
Almost all countries give thrust to following the KYC norms. KYC stands for 'Know Your Customer'. It's the process of recognizing your customer with Government-issued ID cards. So it's mandatory. Follow KYC guidelines and act appropriately.
#3. Select a perfect banking partner or payment processor
The next procedure is to select an ideal banking partner. A banking partner is necessary for complete transactions in fiat currency. The most commonly accepted fiat currencies are US Dollars, Euro, GBP, etc.
Selecting a trustworthy bank which provides a host of digital services, which is very much necessary for conducting Cryptocurrency related transactions. The bank partner must provide the facilities like fast clearance of transactions, adding or withdrawing fiat funds through both payment gateways and manual methods.
#4. Make sure you provide liquidity on the exchange
Liquidity is a must-have feature for the Cryptocurrency trading platforms. It is what the majority of customers look for in a Cryptocurrency trading platform. The newly arrived Cryptocurrency trading platforms will usually experience liquidity issues.
Know what is cryptocurrency liquidity
Some ways to kick-start your liquidity are as follows:
Build a simulation facility that allows to trade between the accounts created within your exchange.
Integrate a well-developed API interface that connects your Crypto trading platform with another existing exchange.
Joining a network of Cryptocurrency exchanges are also advisable. It helps to tie together the liquidity of these exchanges within the network. So it helps to improve liquidity.
#5. Follow the best security practices
Security should be of higher priority for Cryptocurrency trading platforms. It should be safe and secure since it involves Crypto token-based transactions. Cryptocurrencies have considerable values in the market. So it should be protected from other external threats. Moreover, it stores the customer's private data, and more. So make sure it is updated with the latest technologies and cannot be compromised or hacked. Multiple platforms have been hacked in the past. So beware and act cautiously.
#6. Make your platform live only after the Beta testing
Go online with your platform only after performing the Beta testing. The main advantages of performing Beta testing is that it brings out all the flaws that have occurred while developing the platform. And all these errors can be corrected up. Your cryptocurrency exchange will be free from the errors and other technical glitches.
#7. Do the necessary marketing works.
After the successful launching of your Cryptocurrency Exchange Platform, you need to do the marketing works really well, so that it reaches out to the maximum people. Planning of your PR and marketing works need to planned properly to execute it really well. The planning process should include preparing a sketch about the things to be done, the cost involved etc.
Social media marketing would be one of the best ways to promote your products. It's also completely free, and if needed you can try out the paid options in these social media platforms so that the reach would more than the normal option.
#8. Form an active Customer Support team
An efficient and active customer support team should be there for customers' help incase of complexities arising during the transactions. The customer support team have to deal with approving KYC formalities, solving out customer complaints, processing deposits, and withdrawals, etc.
The customer support team should be working 24*7, to make the customers happy!
What are the options available for developing a Cryptocurrency Trading Platform?
When it comes to developing a Cryptocurrency trading platform for your business needs, there are mainly three options available. They are as follows:
Building the exchange software in-house
In this process, you have to hire a team of experienced and skilled developers, designers and other related staff for developing a new Cryptocurrency trading platform from scratch. Also, you should select a suitable programming language that helps to handle the complexities of Blockchain-related applications.
Get the best cryptocurrency exchange software development services from Cryptosoftwares
Moreover, make sure that the platform you develop is compatible with multiple payment processing platforms to safeguard payment transactions within your exchange.
This process is a lengthy one and consumes a lot of your time, money and energy for implementing an entirely new Cryptocurrency platform. The perfect time required for developing an entirely new Cryptocurrency Trading Platform takes up to two years. It should be error-free and suitable for deploying in the market.
So there are still better options available. Let us talk about the same.
Using Open Source Scripts
Certain forums and websites do offer open source codes for developing a Cryptocurrency trading platform. But still, for implementing the same, it demands to have a technical understanding. To learn the working of the codes and doing the required customizations will also consume additional money, time, and energy!
Moreover, there is no guarantee for the codes being safe, secure and reliable. It may have bugs and prone to other vulnerabilities. Also, there will not be the proper support and care in the latest stages, if you require any.
White Label Exchange Software
White Label Exchange Softwares are already proven their performance in the market. It's free from errors and technical glitches. Moreover, it allows you to customize by your business requirements like design, brand placement, languages, etc.
Your Cryptocurrency trading platform is ready within a few days. It's completely hassle free, and we don't have to worry about issues like implementation, after-sales support, etc. The cost to build a cryptocurrency exchange software will also be much less when compared to the above-said options!犀利士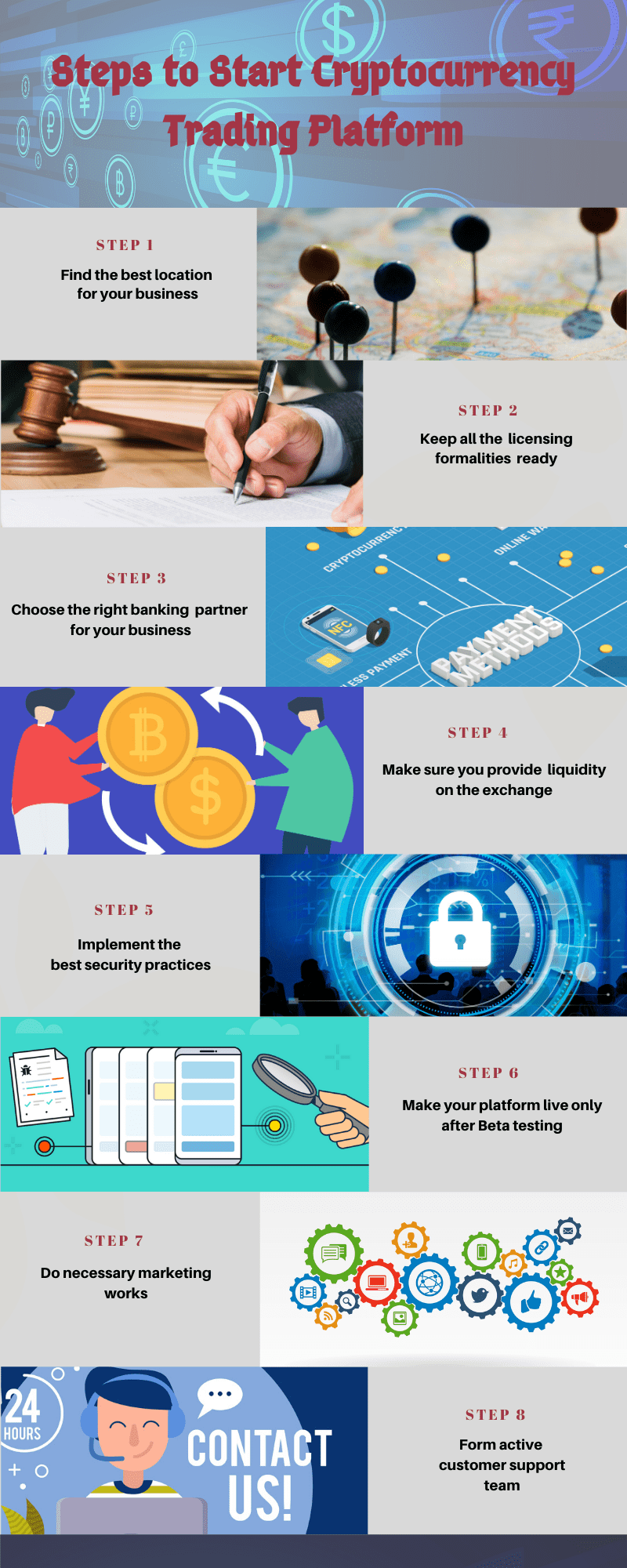 Conclusion
This blog is an attempt to provide certain basic information that a beginner should know on how to start a Cryptocurrency trading platform? Hope, the instinct was fulfilled!
Do comment below if you have any additional queries or opinion!