Coinye Coins was first introduced in the year 2014 by two personalities Robin Clayton (CEO) and Clive Bruce (COO). But it was abandoned soon. The reason was that Kanye West filed a trademark infringement lawsuit against them. They were also charged with the faults of unfair competition, cyberpiracy, and dilution.
So they moved on to the MLM business with CoinyeCoin as the major product. But is it a real opportunity for the ones who are planning to venture into the network marketing field.
CryptoSoftwares offers excellent cryptocurrency development services
Let's read below the complete Coinye Coins Review!
What is Coinye Coin?
Coinye Coin is a cryptocurrency like BitCoin, or rather like LiteCoin. It's the currency that runs using the internet.
Official Website Link: http://coinye.net/#Coinye
Technical Details
Algorithm: Scrypt
Block Time: ± 90 Seconds
Max Coins: 133,333,333,333
Difficulty retarget Time: 12 hours (every 480 blocks)
Every 100k blocks, the payout halves
Coinye Coins Product Line
Coinye Coins do not have their own products or services. The only thing that the affiliates can provide is an affiliate membership in the company.
Joining Coinye Coins
There are multiple package options through which one can become an affiliate member with Coinye Coins.
Basic – $200
Starter – $700
Business – $1500
Professional – $3000
Executive – $7000
Owner – $15,000
The major difference between the above given packages are based on the earning potential of the plans.
Coinye Coins Compensation Plan
Coinye Coins provides mainly six types of packages. They are as follows:
Basic – $200
Starter – $700
Business – $1500
Professional – $3000
Executive – $7000
Owner – $15,000
The distributors will become eligible for commissions once they recruit others.
Residual Commissions
Coinye Coins follow a binary compensation plan and thus pays the residual commissions in the same format.
In a binary compensation plan, the maximum number of distributors that a sponsor can place in his frontline. As you all know, the term binary stands for "two".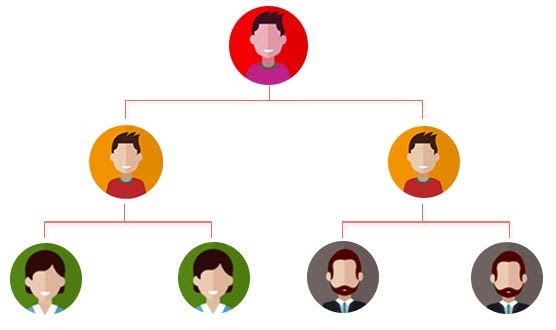 Fig. Binary MLM Structure
Positions in the Binary MLM Genealogy trees are placed via both direct and indirect recruitment of new Coinye Coins affiliates.
Read on Binary MLM Compensation Plan
Matching Bonus
The matching bonus is upto five levels of recruitment and follows the unilevel compensation structure.
The matching bonuses provided at different levels are as follows:
Basic ($200) – no matching bonus
Starter ($700) – 10% on level 1 (personally recruited affiliates)
Business ($1500) – 10% on level 1 and 15% on level 2
Professional ($3000) – 10% on level 1, 15% on level 2 and 20% on level 3
Executive – ($7000) – 10% on level 1, 15% on level 2, 20% on level 3 and 25% on level 4
Owner ($15,000) – 10% on level 1, 15% on level 2, 20% on level 3, 25% on level 4 and 30% on level 5
Get the list of top binary MLM Companies
Final Verdict
Coinye Coins is a kind of Cryptocurrency that was expected to create waves over the Blockchain world after Bitcoin or Ethereum. But it could not work due to the complexities at the beginning like lawsuit infringement. Moreover, the reviews roaming over the internet about this Crypto are really bad.
The Coinye website is accessible, but there are no products to be sold. The company has miserably failed in gaining the trust of the public. So, it's better to stay away from this MLM opportunity.