Cryptocurrencies have dominated in recent years. Additionally, they continued to be a trending topic among regular people and investors.
Modern technology is developing at a breakneck pace and achieving feats never before thought possible. The most recent developments in this field are the creation of blockchain technology and the cryptocurrencies that utilise it.
This blog will help you to draw more attention to the top trends in cryptocurrency and blockchain technology that will propel the sector forward.
What is cryptocurrency?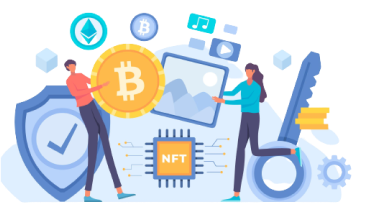 It is a form of virtual money that may be used for transactions. Additionally, it controls the development of new money units and employs encryption for security.
Cryptocurrencies also have the potential to replace or balance out fiat currency, which may lose value gradually as inflation increases. For certain firms, adopting cryptocurrencies may open up new opportunities.
What are the popular cryptocurrencies?
Although there are many recognized cryptocurrencies, bitcoin remains the king.
As of 2022, there are over 12,000 cryptocurrencies across the globe. Thus, it is evident that there are numerous promising cryptocurrency in the lot. Are you wondering which one to invest in?
Let us explore five well-known cryptocurrencies besides Bitcoin.
It is a cryptocurrency designed specifically for running applications on Ethereum. Most developers who want to create and use applications on the Ethereum network look for ether.
As of 11 November 2022, the live Ethereum value is USD 1,254.64 with a USD 27,046,096,738 24-hour trading volume.
Tether is a blockchain-based platform created specifically to allow the use of fiat money digitally. Tether Limited Inc. established it in 2014.
Tether's current price is USD 0.997509 as of November 11, 2022, and its 24-hour trading volume is USD 108,786,508,762.
Binance Coin is a cryptocurrency, which trades under the sign BNB, and was created by the Binance exchange. It is one of the most extensively utilised utility tokens.
BNB's current live price is USD 293.33 as of November 11, 2022, and its 24-hour trading volume is USD 2,322,020,995.
The XRP ledger is used by the cryptocurrency known as Ripple. It is primarily intended to move payments from central databases run by financial companies to a more cost-effective, open infrastructure.
As of November 15, 2022, the current XRP price is USD 0.378547, with a 24-hour trading activity of USD 2,814,686,148.
Even though there are numerous cryptocurrencies, it is always advisable to think before you leap to prevent your investment from disappearing in a matter of seconds…!
The cryptocurrency Zcash is decentralised and open-source. In comparison to other digital tokens, it comes equipped with much better privacy.
On November 11, 2022, Zcash's live price was USD 39.33 with a USD 74,776,946 24-hour trading volume.
What is blockchain technology?
A blockchain is simply a decentralised digital wallet that is duplicated along a computer network.
The blockchain's design is exceptional in many aspects. This is the reason why blockchain technology excels in circumstances involving security, transparency, and cooperation.

Security
Blockchain transactions cannot be altered or amended in any way as they are resistant to hacking and compromise. As a matter of fact, each network participant verifies the integrity of each particular block.

Transparency
As every block in a blockchain is visible to everyone on the network, every block published out there is quite transparent. This results in mutual trust between various parties.

Cooperation
One of the key advantages of the blockchain system is its capacity to operate cooperatively with many participants sharing any form of transaction. These traits demonstrate blockchain technology's limitless potential in a variety of applications.
Top trends in cryptocurrency and blockchain technology
Cryptocurrencies hold the key to the future of money. Given the current rate of growth, there is a strong likelihood that there will be substantial capital growth in the near future. The capital sector has seen a roller coaster ride as of 2021.
For instance, in 2021 El Salvador became the first nation to accept bitcoin as legal cash. Apart from that, the Central African Republic adopted bitcoin as a legal tender, making it the first country on the continent and the second in the world.
Since then, cryptocurrency has become a trending topic. With that in mind, let us check out some of the top trends in cryptocurrency.
1. Crypto ecosystem's institutional adoption
Financial firms and large companies have initially doubted cryptocurrency. Nevertheless, at present most organisations have already invested in cryptocurrency. For instance, "Microstrategy" and "Square" astonished the business industry by investing portions of their cash reserves in bitcoin.
Major financial intermediaries are facilitating consumer cryptocurrency transactions. PayPal research reveals that consumers who bought cryptocurrencies through the app were twice as probable to enlist as those who did not.
2. Regulation is inevitable
There have been many questions voiced about the regulation of cryptocurrencies. Even now, it's uncertain how secure and beneficial the digital world will be.
Civil enforcement action against cryptocurrency exchange BitMEX was brought by the Commodity Future Trading Commission (CFDC) in 2021.
Recently, Janet Yellen, the US Treasury Secretary, has remarked that high restrictions must be implemented globally when confronted with high risks.
3. Crypto Warfare
Cryptocurrencies appear to have played a significant role for both Russia and Ukraine in the frame of reference of Russia's invasion of Ukraine.
To counter the new sanctions for its violence, Russia ended up turning to cryptocurrencies. All whilst, Ukraine attempted to assist through the use of cryptocurrency.
The event's inclusion of crypto signals the start of a new pattern in crypto wars. However, it is clear from the instance of blockchain technology that trends shift with each passing day. Ever wondered what the leading blockchain technology trends are?
If not, let us watch over the latest trends of blockchain technology in 2022.
4. Metaverse
Unquestionably, the metaverse is the next big thing that is going to alter our lives. It is a virtual environment that is both interesting and engaging and has significant socio-economic possibilities.
Since the metaverse is collective and platform-independent, one vendor cannot claim ownership of any particular virtual environment. Cryptocurrencies and non-fungible tokens (NFG) are also utilised to create exchanges in the metaverse.
As a result, we may foresee witnessing significant IT enterprises collaborate in the Metaverse this year and get renewed interest from diverse publics all around the world.
5. Green Blockchain
Blockchain developers will put a lot of effort into establishing environmentally friendly blockchain solutions by implementing fresh tactics like carbon offsets and carbon emission mitigation measures.
Reducing the energy usage of blockchain networks is one way to create a green blockchain. Decentralised Finance (Defi)
They utilise public blockchain network power and smart contracts to furnish financial services like asset exchange & swap, lending & borrowing, insurance, trading, and many more.
The upcoming years will showcase the growth of Defi security and safety protocol to encounter unwanted and malicious intrusions in decentralised apps. Additionally, research conducted by Grand View reveals that at a CAGR of 85.9%, the DeFi global market value is forecast to reach $1431.54 billion by 2030.
This wraps our list of the top cryptocurrency and blockchain technology trends to keep an eye on right now…!
Future of blockchain technology
Have you ever run your thoughts over the future of blockchain technology?
There have been discussions swirling around this topic for a long time as it has always been one of the trending topics. From its origins to its existing state as a ground-breaking backbone technology, blockchain has made great strides. Numerous firms have already used blockchain technology as it promises swift trading on stock exchanges.
Furthermore, by 2030, 30% of all customers can prosper from this technology. Hence, blockchain technology will surely revolutionise the tech realm. A scaled-up of 176 billion USD in commercial value will be added by blockchain by 2025. This figure will climb to 3.1 trillion USD by the end of 2030.
Without a shadow of a doubt, it can be said that blockchain is and will continue to be a revolutionary technology.
Summing Up
The latest financial trends of 2022 indicate that cryptocurrencies are here to stay!
The financial industry has been significantly impacted by Blockchain technology, and interest in cryptocurrencies is on the rise. Consequently, it is now imperative that you build up your cryptocurrency employing blockchain technology and succeed tremendously.
The commercial and investment sectors of many businesses will change in addition to the advanced trends in blockchain technology in 2022. Nevertheless, it will take a lot of time and work to fully implement blockchain technology and blockchain applications.
Come rain or shine, innovation will continue to strive in cryptocurrency and blockchain technology by implementing distinct changes.