Crypto trading bots are a popular trend now and very much invested by top traders. The strategy of cryptocurrency trade has now shifted to how good crypto trading bots can be developed. Those who are able to develop the best crypto trading bots today have an edge over the others in trading. Bots are revolutionizing crypto trading by making it possible to get tasks done with minimal human intervention. It automates trading and saves time.
What is Crypto Trading Bot
Crypto trading tools are popular and technically advanced automated tools for trading cryptocurrency on different platforms or exchanges and involve no real human intervention. They trade either for one or more cryptocurrencies on behalf of the owner on multiple trading exchange platforms. They automate trading strategies. Algorithms are used to detect market conditions and analyze them as well as trade accordingly. Crypto Trading bot has a speed, accuracy, and efficiency advantage. This technology is constantly evolving and updated all time. They are mostly used by professional traders and investors.
Is it wise to use a Crypto Trading Bot?
Should you use a crypto trading bot? How wise is it to invest Crypto trading bots are legal, and all the major players use them. For a crypto trading bot to benefit you, it is important to incorporate a good trading strategy.
Some of the main things that a crypto trading bot can do for you are:
Data Collection
Rebalancing
Portfolio Management
Intelligent Order Routing
Exchanges are now using bots like grid bots and DCA bots to provide better trading tools to their customers and increase trading volume.
How to use a crypto trading bot
Starting out with crypto trading bots is not simple. Therefore, it is important that you get a good understanding of how to use it. There, it's crucial that you learn how to use it properly.
It is not as straightforward to use as a venting machine. Obtaining open source scripts for creating a cryptocurrency trading bot is relatively simple. If you are technically adept, you might be able to bring a smartly configured bot to execute the trades automatically in accordance with your finest strategy.
In order to get the most out of the bot, it is important to design a user-friendly interface for it. Developing a crypto trading bot that can integrate with numerous trading strategies to buy or sell cryptocurrencies would be great.
Also Read Crypto Trading Strategies – Top Cryptocurrency Tips Worth Exploring
Here are some of the factors to consider to ensure you reap the best benefits out of using a crypto trading bot:
Ensure crypto trading bot do not demand custody of cryptocurrency
Choose a trading bot with a good mobile support
If you are a beginner, use prebuild trading bot templates to avoid complications
Backtest before making it live and compare the results with previous pricing history
Make sure your crypto trading bot platform supports advanced trading Indicators
Make sure to integrate the trading bot with tax software.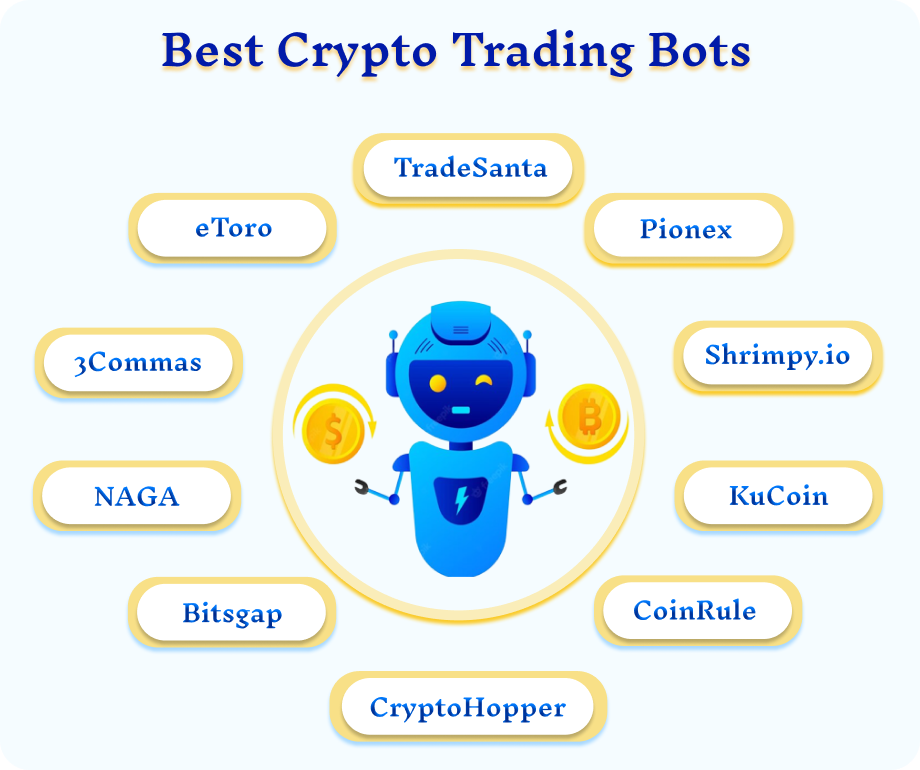 It is difficult to choose between a number of crypto trading bots. If you are a layman in using them, it is best to start with simple bots first. The best crypto trading bots for beginners are Pionex, Shrimpy, and Cryptohopper. Here is a list of the Best Crypto Trading Bots :
Pionex
eToro
3Commas
NAGA
Bitsgap
CoinRule
KuCoin
CryptoHopper
TradeSanta
Shrimpy.io
What are the benefits and drawbacks of using a Crypto Trading Bot?
Automating monotonous manual activities using Crypto Trading bots helps to save time. They operate continuously on their own and are made to take advantage of market inefficiencies. In fact, cryptocurrencies can help to reduce a lot of legwork out of trading crypto and a lot more.
But they are not without their drawbacks. These bots can demand frequent tuning and maintenance as trading conditions dynamically change with changes in their environment. Using or developing a good bot can be expensive mostly and can bring losses if you are not an expert in integrating a good trading strategy with it or when there are substantial risks involved. Bots can also be hacked, which further adds to their vulnerability. Overall, crypto trading bots can be a helpful tool for active traders, but they come with risks and costs that must be carefully considered.
Conclusion
Cryptocurrency trading bots initially relied on scripts written by their developers that specified when to execute trades. But very soon, these bots will be sophisticated through advanced forms of machine learning. Ever since these bots got brighter in their intelligence to trade, their popularities has kept increasing among crypto enthusiasts. But crypto trading bots need to be studied for their efficiency and how effectively and profitably cryptocurrency trading bots might work for you financially.