With over 22 million accounts and 1.5 million transactions, Tron is one of the world's fastest-growing public chains. Tron cryptocurrency (TRX) is considered one of the most promising cryptos in the market today and is listed in over 130 exchanges. TRX is currently priced Tron coin price is currently at $0.04656 and holds a market cap of $5174.09 million. It provides users with full liberty in developing and issuing tokens on their own network i.e., freedom for Tron Crypto token development and to empower their operations at all times.
Due to their versatile use cases in the blockchain industry, Tron tokens TRC 10 and TRC 20 are recently widely searched terms on the internet.
Also Read Top Cryptocurrency Exchange Clone Script
In this article, you will be able to see the top cryptocurrency exchange clone scripts.
Still, a lot of us are yet to know about the Tron blockchain. Through this article, let's have a look at Tron, Tron tokens, Tron-based crypto token development, and its benefits.
What is Tron?
Tron is a blockchain-based operating system that allows the creation of decentralized applications based on a cryptocurrency native to the system, known as TRX, and sharing of media content. It was founded by Justin Sun in September 2017. Tron aims to eliminate the gap between content creators and consumers by cutting out the middlemen. It is one step towards the promised land of direct payment from the customers for creators.
Consider Amazon prime, a streaming platform offering on-demand content. Their services are controlled in a centralized manner. One should subscribe and pay Amazon to watch a particular film or series produced by someone else who is hosting it on the Amazon platform. From the fee, Amazon takes a sizable cut for hosting the content on its platform and pays the rest to the producer. .
Tron aims to eliminate the middlemen, like Amazon in the above example, by allowing anyone to host entertainment content on its blockchain-based network. Audiences can directly pay the content creators to access their content. No middlemen between the creator and the consumer.
How do you get a Tron Token?
Tron tokens are built on the Tron blockchain network. These tokens can not be mined, they can only be bought. Want to buy one? They can be bought from any reputed crypto exchange platform.
It is considered a revolutionary innovation because of faster, secure, and efficient transactions. They also offer complete freedom to develop and issue tokens on their own network. Currently, there are two types of Tron tokens. TRC10 and TRC20. Let's find out more about them.
TRC10
TRC10 is a technical standard by the Tron blockchain without depending on the Tron virtual machine (TVM). TRC10 tokens are seamlessly compatible with all major crypto wallets. This makes it easier for investors and traders.
Majority of Tron-based tokens in the market today are TRC10 tokens. This can be owed to its simplicity and relative ease of creation on the blockchain. TRC10 has also recently become one of the most preferred ICO tokens.
TRC10 has a flexible blockchain, which enables the easier token development process. These are free for use in most cases. So investors and traders have preferred TRC10 tokens for trading purposes.
TRC20
The TRC‌20 is a technical standard for smart contracts on the Tron blockchain for the execution of tokens with the TRON Virtual Machine (TVM). It is a prominent crypto token in the market today. It is attracting a number of blockchain enthusiasts. TRC20 is also compatible with ERC20 tokens. TRC20 tokens help users in implementing secure transactions without any hassle.
TRC20 tokens require higher levels of energy & bandwidth capacity compared to TRC10 tokens. That is because the TRC20 tokens are more powerful compared to TRC10 tokens. TRC20 tokens can be traded on any leading exchanges, can be offered ICO crowdsales, in DApps as payment, and in developing individual projects.
Get Tron Crypto Token Development services from Cryptosoftwares
Benefits of Tron Crypto Token Development
Diminished costs
Development and integration of Tron wallet
Supported in Android, IOS, Mac, & Windows.
Customizable interface
Peer to peer decentralized network
Multiple Crypto tokens are supported ( BTT, JST, TRX, and USDT)
Ease of tracking through a public ledger
Top-end safety & security measures
Swift and secure transactions without the hassle
Higher throughput
High scalability
Reward distribution mechanism
Use of leading storage systems like level D and KhaosDB.
Tron Price Prediction: TRX is heading to a leap of 30 percent, raising $0.07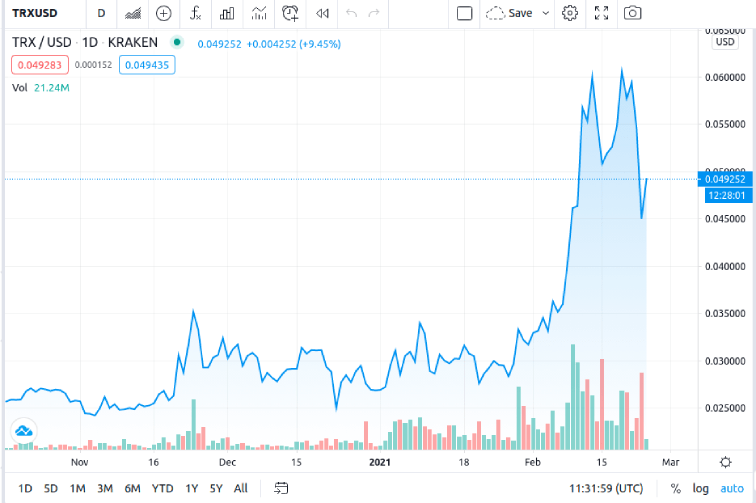 Future of Tron Token Development
We know that the cryptocurrency market is highly volatile. Hence it is very hard to pinpoint the future of Tron. Tron is considered to have huge potential, mainly because of its highly active community, and its constant updates keeping up with the latest trends. As far as predictions are concerned, Tron seems to have a fairly prosperous future ahead.
Services Included in Tron Token Development
TRON DApp development
Decentralized apps for various businesses to trade cryptocurrencies easily. A safe and secure trading experience can be ensured through Tron.
TRC10 Token development
Custom TRC10 tokens for your ICO. These tokens are easily transferable, mintable, and updatable in smart contracts.
TRC20 Token development
Our TRC20 tokens are seamlessly compatible with ERC20 tokens. Smart contracts enable smooth customization of interface .
TRON wallet development
Customized TRON wallets for managing the circulation of Tronix, Tron's native cryptocurrency.
Conclusion
Tron has recently emerged as an alternative to prominent blockchain platforms such as Ethereum and Bitcoin. It's faster, efficient, and has the ability to process over 2000 transactions per second. It also has a lower gas fee. There is no limit to what can be built on the Tron blockchain network.
Presently, many businesses and startups are hesitating to adopt blockchain technology because of the difficulties in developing their blockchain-based platform from scratch.
But there are enough reasons for anyone to start considering Tron as an option for creating their decentralized projects.