"Gaming platforms have recently come up as one of the most interesting applications of NFT technology. Integrate NFT's into your gaming platform and attract new users. "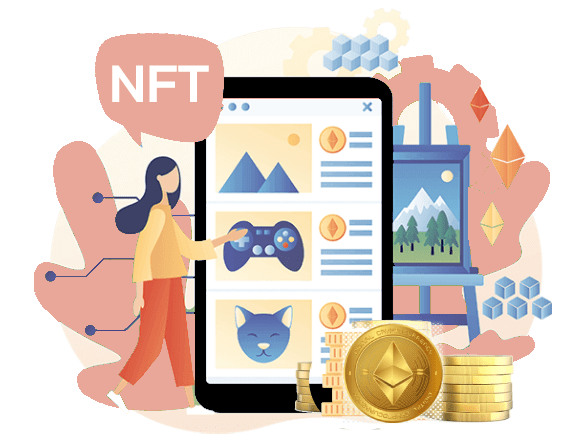 NFT Gaming Platform Development Services
There are many collectible objects in games such as avatars and in-game entities. There is no better way to register the individuality of objects today than through NFT's. This revolutionary technology has taken the gaming industry by storm. Millions are playing and earning with popular NFT games like Axie Infinity, Sorare, Gods Unchained, etc. Action, adventure, arcade, board, casino, card, fantasy sports games, etc can be developed on NFT platforms. Develop your own NFT Gaming Platform on popular blockchains with Cryptosoftwares.
Our NFT Gaming Platform Development Services
NFT Action games
Action games have long reigned as the most popular genre of video games. Hand-eye coordination and fast reflexes and reactions are required to succeed in such games. In-game objects like special powers, weapons, characters, avatars, etc can be tokenized using NFT's.
NFT Adventure games
Adventure games are a game genre with a highly loyal fan following. Compelling stories, interesting characters, tricky gameplay, dialogue, world-building, and imagination make these games unique. Develop your NFT adventure games with Cryptosoftwares.
NFT Arcade games
NFT Arcade games are digital versions of the games which we used to play in the arcade. Instead of coins, here we use NFT tokens. This classic game genre has been around for over half a century and is still popular. Develop your NFT arcade games with Cryptosoftwares.
NFT Board games
NFT's and traditional board games go hand-in-hand. Implementing the functionalities of blockchain technology and smart contracts can breathe new life into the game genre. Combine classic board games with NFT features and develop your own with Cryptosoftwares.
NFT Casino games
The casino industry has moved indoors over the previous years and cryptocurrencies and NFT's have helped the transition. Develop popular casino games including card games, craps, roulette, machine games, etc on NFT's with Cryptosoftwares.
NFT Fantasy games
NFT's and fantasy sports are a perfect match. Users can collect rare cards whose authenticity is verified by NFT's. These cards can be traded or exchanged and accurate records will be maintained on the blockchain. Develop your own NFT fantasy game development platform with cryptosoftwares.
Consult our Blockchain Experts
Feel free to get in touch. Our experts are always eager to help you.