How far do you trust using a mobile wallet for storing your crypto coins? Always opting for the right cryptocurrency wallet is important to keep your crypto coins safe and ensure easy access to your digital assets.
Yes, Of course, the crypto exchanges have tightened the security and safety protocols to ensure the crypto coins are not vulnerable to hackers and security threats. However, you may be looking to make use of a reputable software wallet like Trust Wallet. Here we will discuss about Trust wallet review 2021
Though you come across many hardware wallets, it is common to note that there would be software options for that too. Despite the fact that hardware wallets are quite secure when compared to software wallets, still, you can choose the best software wallet since it is based on decentralized technology.
Cryptosoftwares provides the best Cryptocurrency Wallet Development Services
So here in this article have a look at the Trust Wallet review. Let us roll out the entire specifications, and weigh the pros and cons of Trust Wallet to know how it benefits you in all aspects.
Brief Introduction – Trust Crypto Wallet Review
| Software Name | Trust wallet |
| --- | --- |
| Type Of Wallet | Mobile |
| Founder | Viktor Radchenko |
| Launched Month/Year | November 2017 |
| Price | Free Of Cost |
| Cryptocurrencies Supported | BTC, LTC, ETH, ETC, ERC20, ERC223 |
What Is a Trust Wallet? <犀利士 /h2>
Trust wallet is a mobile-based software crypto wallet that enables to store or send/receive a wide range of crypto coins. The main goal is to focus on simple and safe access to cryptocurrencies and designed especially for Ethereum and Ethereum based tokens.
The native code of the Trust Wallet is open source as well as close sourced. It is closed source for Android and open-sourced for iOS. It also enables the users to store all private keys on their own app to facilitate security and also provides a backup feature that ensures simple recovery. Trust Wallet partners with the Kyber network and Web3 browser to provide a built-in decentralized exchange that allows a simple interface to interact with DApps via the Trust Wallet app.
General Information About Trust Wallet
Viktor Radchenko, a US-based Ukrainian software developer is the founder of Trust Wallet. It was launched in November 2017. It supports more than 160 digital tokens and enables the users to stake their crypto coins and earn rewards.
How To Get Started With Trust Wallet?
The Trust Wallet can be downloaded either from Google Play or the App Store. After downloading and installing the wallet, the options are provided to import an existing wallet or to make a new wallet. To create a new wallet, a 12-word seed is provided to the user. You need to store this very safely. You will also be able to use this seed to recover your wallet and if you lose it, you will not be able to access your wallet.
What Is The Cost Of Trust Wallet?
The functions of Trust Wallet provide options to exchange and trade your coins. You can make use of the services to exchange your tokens. Trust Wallet claims that it renders its services free of cost. However, you need to pay "gas" when the transaction is executed on the Ethereum blockchain. The fee paid as a gas fee will be received by the miners who confirm the transactions. It means Trust Wallet is not taking any service charge for your transactions on the Ethereum blockchain.
Compatibility Of Trust Wallet
Trust Wallet is highly compatible with Android versions greater than or equal to 6.0 and iOS versions greater than or equal to 13.0.
Supported Crypto Coins Of Trust Wallet
Trust Wallet supports all cryptocurrencies like ETH, BTC, ERC20, ETC, and ERC223 tokens. You can also store BNB (Binance Coins), VEN (VeChain), AION, etc
How To Add Crypto Coins To Trust Wallet?
Follow the below steps to add crypto coins to Trust Wallet:
Log on to your Trust Wallet
Tap the "Receive" Button
Either scan the QR code or copy the wallet addres
Paste this address in the receiver's wallet address section.
Click the Transaction tab to view the completed transactions.
How To Make Payments With Trust Wallet?
Follow the below steps to make payments from Trust Wallet
Log on to your wallet.
Click on the Send button
Paste the wallet address of the receiver in the field provided or scan the QR code.
Enter the amount to be transferred and click on the Next button
View the transaction details with gas price included.
Click on the Send button to send the amount from Trust Wallet.
Is It Safe & Secure To Use Trust Wallet?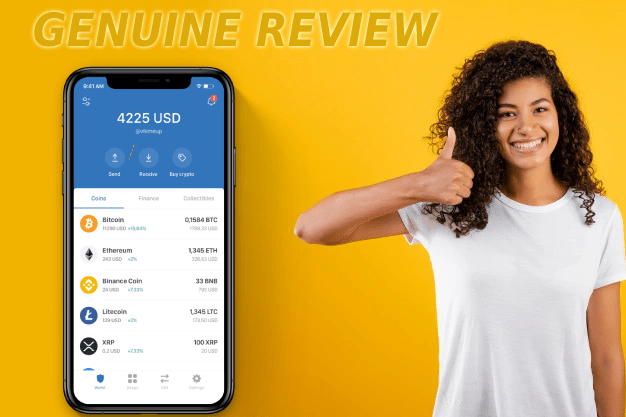 It offers several security features to protect your digital assets against security threats and hackers. Below are some of the security features included in Trust Wallet:
Store Private Key Safely

You can also store your private key on your local device instead of storing that key on the servers of Trust Wallet.

Protects Personal Data

Without providing your personal details, you can download and install Trust Wallet and it also claims that it never keeps your personal data.

Open Source Platform

It is an open-source platform where you can do an online review of the codes of Trust Wallet when the app is being audited by the security experts.

Backup & Recovery

If you backup your wallet during the setup procedure, it allows you to restore your wallet quickly from an encrypted file.
Pros & Cons Of Trust Wallet
Pros Of Trust Wallet
It is free to download the wallet.
Supports various cryptocurrencies.
Easy to use
You can have full control over your private keys
Enables staking your own coins and earning returns on your crypto holdings.
Supports platforms like Android and iOS devices.
Cons Of Trust Wallet
Not considered as secure as a hardware wallet.
Read more on CoinPayments Review- Is it Safe To Use?
Conclusion
Hope this article provides a complete Trust Wallet review, which helps you to understand more about Trust Wallet, how to set up your own wallet to transfer amounts from the Trust wallet, and the security features involved.
Though a software wallet is not considered as secure as a hardware wallet, you can trust a lot on your Trust Wallet as it still remains a better option with its security features if you decide to make use of a mobile-based software wallet.