Cardano is perhaps the most talked-about blockchain platform today. Currently, it is ranked third in terms of market cap after Bitcoin and Ethereum. Cardano is a third-generation PoS blockchain platform that can also be used to develop dApps. The platform is also launching a smart contract upgrade on September 12, which will only increase its popularity. NFT's or non-fungible tokens have been the latest craze of the crypto community with everything including art, images, memes, music, etc being auctioned off for huge sums.
They are unique tokens that validate the ownership of the digital assets traded on NFT marketplaces. There are many NFT marketplaces developed on blockchain platforms like Ethereum, Binance Smart Chain, TRON, Matic, EOS, Solana, PolkaDot, etc. But developing an NFT marketplace on the Cardano blockchain provides certain unique advantages. Let's have a look at what Cardano is and NFT marketplace development on Cardano.
Read more on Create NFT Market Place Like SuperRare
What is Cardano?
Cardano is a third-generation open-source blockchain platform that uses decentralized delegated proof-of-stake as a consensus mechanism. Proof of stake is much more efficient than the proof of work consensus mechanism deployed by popular blockchains like Bitcoin and Ethereum. Cardano provides considerably more interoperability, sustainability, scalability, and transaction speed compared to proof of work blockchains. The native token of the network is ADA, which has seen a massive price surge and attained new all-time highs in the week of writing.
Cardano blockchain was intended to be a replacement for Ethereum and was founded by Charles Hoskinson, one of the co-founders of Ethereum in 2015. The similarities can be seen when the functionalities of both platforms are compared. But Cardano outperforms Ethereum in output efficiency as it is a third-generation blockchain platform.
Get the best Cardano Blockchain Development Services Online with Cryptosoftwares
Cardano is the most popular proof of stake blockchain. One of the platform's principal aims was to provide a sustainable and eco-friendly blockchain. The crypto community has recently become more aware of the environmental impact of mining. And countries like Iran and China temporarily banned crypto mining because of its massive power consumption. All these factors have aided in the rise in the popularity of Cardano.
NFT Marketplace On Cardano
NFTs have been the hottest topic in the crypto community this year. The unique features of NFTs have attracted huge numbers of artists and art collectors. New NFT marketplaces are being launched every day with the increased popularity of the medium. Such platforms can be developed on many blockchains. Binance Smart Chain, Flow, Tron, EOS, Solana, Tezos, Cosmos, etc are the popular platforms chosen for NFT marketplace development.
An NFT marketplace developed on the Cardano blockchain will support a high volume of usage, provide increased efficiency, and scalability. Choosing Cardano for the development of your NFT platform will guarantee you high market visibility and credibility.
Read more on How to create ADA Token on Cardano Blockchain
Advantages Of Building An NFT Platform On Cardano
Developing an NFT platform on the Cardano blockchain has significant benefits. Let's have a look.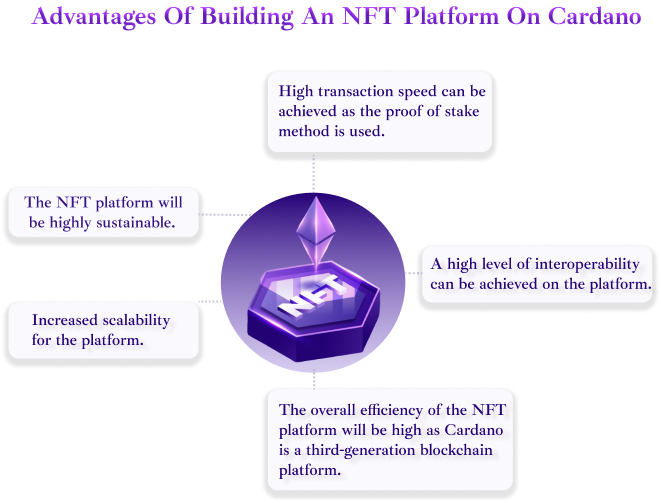 Increased scalability for the platform.
A high level of interoperability can be achieved on the platform.
The NFT platform will be highly sustainable.
High transaction speed can be achieved as the proof of stake method is used.
The overall efficiency of the NFT platform will be high as Cardano is a third-generation blockchain platform.
Cardano NFT Marketplace of Cryptosoftwares comes with a lot of advanced features. These features can help the platform stand apart and provide users with a unique experience.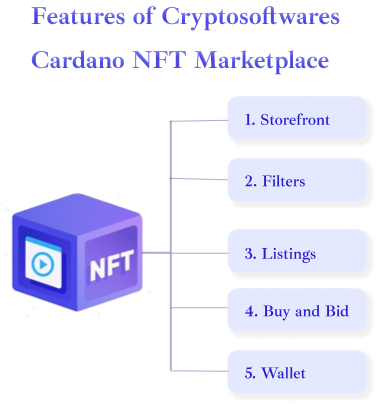 1. Storefront
All the necessary information regarding the NFT can be viewed on the storefront. Previews, information regarding owners, bids, product authenticity, price history, etc can be viewed here.
2. Filters
There can be many types of collectibles listed on an NFT marketplace. Different types of filters enable effortless navigation through the platform. Users can filter listings based on category, listing status, and collections.
3. Listings
Users can create listings easily on the platform. They can submit collectibles, upload related files, write descriptions, etc for the items they want to list on the platform.
4. Buy and Bid
Buying and bidding for collectibles is the primary function of the NFT platform. Bids can be made with an expiration date and users can view the details about the current status of the bid.
5. Wallet
Users can store, send, and receive non-fungible tokens using the wallet feature of the platform. The existing crypto wallets of users can be linked to the platform.
Create NFT Market Place On Cardano
Cardano is already one of the most popular blockchain platforms. Its proof of stake consensus mechanism and sustainability has already set it apart from most other blockchains. Launching an NFT marketplace on Cardano with Cryptosoftwares' will help you gain the recognition and trust of artists and art collectors. At Cryptosoftwares we provide premium white-label NFT marketplace development solutions on the Cardano blockchain.