MyEtherWallet (MEW) is one of the best platform or online wallet to store Ethereum and ERC-20 tokens. In 2015, MyEtherWallet (MEW) was developed by Taylor Monahan and Hemachandra.
It gained its fame as it was the only platform and solution for the Ethereum coins to be stored in a more secure wallet. The interface of MEW (MyEtherWallet ) was very easy and it used GUI (Graphical user interface) instead of using the difficult command lines. So the ERC-20 tokens were stored in a single place or wallet.
Though the MEW continued well with its function and security features, the co-founders were separated in 2018. Monahan announced that she is leaving MEW (MyEtherWallet )and she introduced Mycrypto which is a fork of MEW (MyEtherWallet). The base code of Myetherwallet was developed by Hemachandra.
In this article, we will look into MyEtherWallet integration and it is the best alternate of any cryptocurrency payment solutions.
Hire Cryptosoftwares for MyEtherWallet Integration
Short description of MyEtherWallet
Before looking into the detailed features and benefits we will look into the short description about My EtherWallet
1. Name of the Wallet: The MyEtherWallet
2. Accepted Coins: Ethereum (ETH), Ethereum Classic (ETC), and ERC-20 tokens
3. Countries: 192 countries available
4. Languages: Available in 18 languages
5. Mobile compatibility: Launched in Beta iOS App
6. Rating of the Wallet: 4/5 rating
7. Type of Wallet: Software Wallet
8. Features of MyEtherWallet
1. Supports Ethereum network
MEW interface is compatible only to Ethereum coins, ERC-20 tokens. If you need to exchange with other cryptocurrencies you need to exchange legally. It is not compatible as it supports only Ethereum network and as of now there is no update to extend its compatibility.
2. Access through mobile and desktop
Basically, MEW (MyEtherWallet) can be accessed through an internet connection. You need to provide Wi-Fi or 4G connection to access MEW (MyEtherWallet ) account either through mobile or desktop. Beta iOS App was launched and yet the official mobile App has to be released.
3. MEW-Operating systems
MEW (MyEtherWallet ) interface is an open source and so it is easy to access all the operating system of MEW(MyEtherWallet ) on devices like a mobile & desktop: Mac, Linux, Windows, etc.
4. MEW Account – Fees
Since MyEtherWallet is the only open source to transact the Ethereum coins through this network, it is not charging the users to use the MEW (MyEtherWallet) account. This portal is free of cost
5. Security
MEW (MyEtherWallet ) is highly secure for its users to use the account and the chances of getting hacked are very less. Once you register with MEW (MyEtherWallet ) account, you will receive a file with keys and make transactions through MEW (MyEtherWallet ) account you need not login using the username and password like other crypto wallets. Instead of that, you need to upload this file and after verifying the keys the transaction is done.
Always access the portal using 'https://' protocol but many of them use it as 'HTTP://' protocol and have been hacked easily by the hackers or Miners. This results in data loss, loss of digital assets and it also produces a private key which is unique and not easily accessible to the hackers online. It handles the offline transactions and also the cold storage. This makes it as safe and secure for the investors of Ethereum
6. User-friendly interface
The user interface is very user-friendly and navigating from one option to another option is made very easy in MyEtherWallet. The same interface is used for ERC-20 tokens and Ethereum and so it will easy for the new beginners.
7. Adding ER-20 tokens to MEW
The main feature of MEW (MyEtherWallet ) is to Add ERC20 tokens or the custom tokens to MEW. Most of them are not aware of this feature. So it makes to handle a large number of ERC20 tokens easily and it is a very effective way to manage them at a single wallet.
8. MyEtherWallet Customer Support
MEW (MyEtherWallet ) account is very well supported by the customer support team. The developers of MEW (MyEtherWallet) update the queries of the users. They technically support the customers of MEW. The FAQ's for the beginners and mentioned the security of MEW account. They are into development stage to support their customers through live chat.
Benefits of MEW( MyEtherWallet)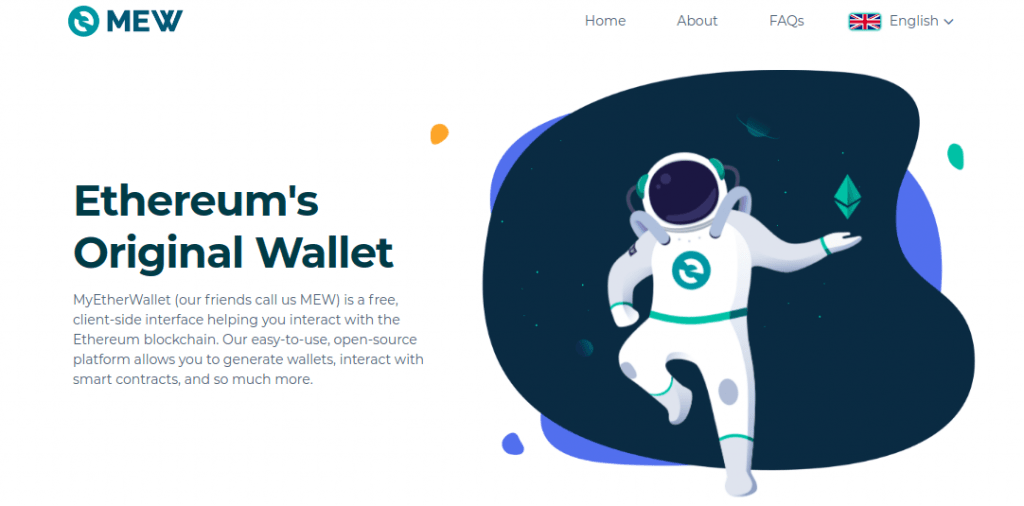 1. Service is free of cost.
2. The interface is an open source.
3. MEW (MyEtherWallet ) navigations are easy to understand and can follow the guide videos.
4. MEW (MyEtherWallet ) will not store the data on servers.
5. It handles cold storage and offline transactions.
MyEtherWallet is Safe?
Many users have this doubt, "whether MyEtherWallet is safe to use?" Yes, of course, it is very safe to use MEW(MyEtherWallet) because it is designed to have the security features and it acts as a tool for this Ethereum blockchain interface and it is not standalone App. The other wallets like hardware wallets can also be connected to MEW (MyEtherWallet). Hardware wallets like Ledger, it can be used to connect through MEW.
How much safe it is to the beginners of crypto wallet and also for the experienced users of crypto wallet?
As it supports cold storage and offline transactions. It is very safe to create wallets having their own rights and the transactions can be authenticated effectively through offline. As it can be used offline. The data transaction is safe and secure and it is very difficult for the hackers to mine the data or to manipulate the data.
Supported Platforms for MEW Integration
MEW can be easily connected to smart contracts with privacy. No personal information or login information is collected. No need of registration process to be followed to start any MEW account.
Chrome extensions are also available for MyEtherWallet. It is a web wallet which is self-hosted and so can be accessed with any browser or OS.
Supporting platforms: Chrome extensions, Web Wallet
Privacy in MEW: No personal/login information required
Smart Contract: Yes it is supported.
Conclusion
In this article, we can conclude from the features and benefits of MyEtherWallet that it is surely the best alternative of any cryptocurrency payment solution. We have also discussed the supported platform for its integration. We can definitely say that MEW(MyEtherWallet ) integration is very easy and safe that supports the offline transactions and it makes very difficult to hack the important data and it makes it outstanding when compared to other wallets
Bitcoin Wallet Development – A Complete Guide for all about cryptocurrency wallet