As an entrepreneur, I am sure that you are always looking for the next big thing to help your business grow. So, you might have already heard or read about the Initial Coin Offering.
But what is an ICO, and How does it operate?
This blog post will explain everything you need to know about ICOs in 2023. So if you're thinking about raising money through an ICO, read on!
What is Initial Coin Offering (ICO)?
Simply put, ICO refers to an event in which an organisation sells a new cryptocurrency for the purpose of raising money. So, investors will obtain a cryptocurrency as an interchange of their financial transactions.
In short, ICOs are entities that hold a specific value. Additionally, an ICO furnishes a chance for global investors for the purpose of investing in new coins.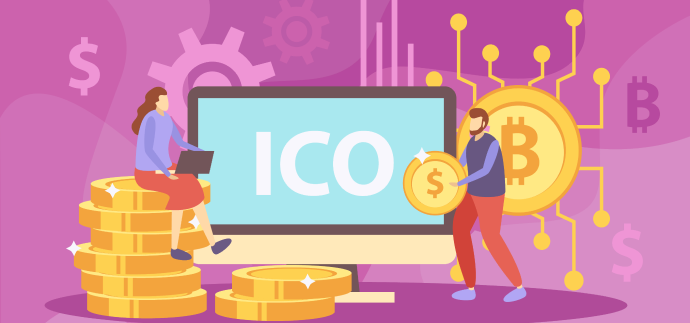 The Best Initial Coin Offerings to invest in 2023 are Dash 2 Trade, RobotEra (TARO), Battle Infinity (IBAT), Tamadoge (TAMA), and IMPT (IMPT). However, all these crypto ICOs have distinct features like fighting climate crisis, reward, and game, metaverse niche, automated trading, and so on.
How do ICOs work?
A crypto startup will generate a white paper for an offer when they want to raise funds through ICO. In addition, this will highlight project details, purpose, required funds, and so on.
One should purchase some of the project's tokens if one desires to take up the ICO offer. Moreover, this can also be done with another digital currency or fiat currencies like dollars. Nevertheless, you should be aware of using cryptocurrency wallets and exchanges.
Tokens are the coins you buy. So, they resemble the stock of a firm that is offered for sale to the public.
If enough funds are not raised, and the ICO becomes unsuccessful, then the money may be given back to the investors. On the contrary, if the Initial Coin Offering (ICO) is successful, then the fund will be utilised to pursue project goals.
But, what about the regulations?
Although there are no particular regulations for ICO, the Securities and Exchange Commission (SEC) have intervened in protecting the interest of investors in the past.
Cost of Initial Coin Offering (ICO)
If you're seeking a less expensive solution, write an ICO white paper. Additionally, if you lack trust in your writing abilities, you should hire someone who will likely require you to pay them much.
There are free social media and community channels to help you know more about ICO. Nevertheless, selling your ICO on major paid community channels is crucial to building credibility and effectively connecting with potential investors.
As of 2022, the estimated cost to launch an Initial Coin Offering (ICO) website is around $ 15,000 to $ 25,000.
Best tips for launching a successful ICO in 2023
Determine your goals: You should grab the attention of the audience by adequately defining your goals. And this can be done with either a roadmap or a whitepaper.
Whitepaper refers to a document that explains the ICO project and the issue which they want to solve. On the other hand, the roadmap describes the ICO activity timeline.
Develop a white paper: An excellent business plan is not accomplished without a white paper as they describe, demonstrates & serves as information to decide if the project is authentic or fake. Hence, it would be best to guarantee that this white paper inspires crypto investors and other crypto enthusiasts.
Generate a crypto token: You can either develop a crypto token or crypto coin for the purpose of raising funds. However, it would be best if you create a token as it can be easily developed under the existing blockchain.There are many token development platforms to develop crypto tokens. Nevertheless, The Best open-source blockchain platform is Tron and Ethereum
Recognise the location to establish your own ICO: Every nation has diverse policies for developing a fundraising module. Thus, selecting the best country will assist you in increasing your profit.
Hire a top-notch ICO development team: An ICO project developed by skilled professionals will reach the target audience very easily. Nevertheless, this team must encompass blockchain enthusiasts as it will play a key role in offering better results.
How to choose the best ICO development service:
You must make a sensible decision while selecting the ideal ICO development service because many ICO development solutions are developed to help crypto investors.
Here are a few methods to find the best from the rest;
Background of ICO development service provider: Gather the service providers' portfolios and look into their past client interactions to obtain a sense of their service.

Thus, it will identify the knowledgeable team providing ICO development services from this experience.

Developer details and business profile: You must consider the developer and company profile while selecting the finest ICO development service to ensure they receive the best service possible.

An essential step in creating an ICO is the involvement of blockchain experts.

Social media group: Potential investors are constantly looking for new cryptocurrency currencies and recognition in the marketing sector.

So, maintaining a presence on social media shows someone is committed to their profession, and they should help the community team on these active social media channels.

Analyse the plan from the beginning: The plan may alter by the continuous fluctuations in the market price of cryptocurrencies and may diverge from the initial ICO development discussions.

To better understand their ICO development service, it is always preferable to explain such issues upfront at the early stages of the ICO development cycle.

Authorised ICO service providers: Reputable service providers highlight these terms to help you identify the top ICO service providers.
Global presence: You may learn more about the ICO development service providers' services by looking at their global assistance.

Moreover, the backing for agreements from the local partner will also be beneficial.

ICO service provider's whitepaper: One may select the greatest ICO development services on the websites of the ICO development service suppliers.
Assess global forum feedback: It will be beneficial to conduct an inquiry on a global forum for any ICO development cycle and the learning that results from it.

Make a wise decision regarding the finest ICO service supplier for the ICO project in light of the previously mentioned factors.

ICO website development tips

The first thing that provides a general impression of the company is its website. Even if the goods or service is excellent, people won't visit the website if it is unattractive to the viewer

Thus, it is essential to maintain an attractive website for every organisation. Here are a few tips on how to do that;

Attract the consumer's attention: Try focusing more on potential customers with your ICO. Perfect content with a clear title, excellent images, and an in-depth pitch are just a few essential factors to consider.

The graphics must be made in a manner that speaks to your brand, appeals to clients, and offers a succinct history of your company.

Define the product: It is always preferable to give a brief summary of the idea so potential investors may comprehend it. It should describe your company's operations and how the ICO tokens will help investors. Additionally, you must describe your company's unique selling proposition.

You may, for instance, discuss the cost of the ICO tokens, the process by which they were created, and the distribution method you plan to employ.

Trade the ICO tokens: The ideal situation would be if you could convince the potential investor to start trading. Thus, give your ICO development's full presentation without hesitation.

You can also provide information about the price, new perks, membership packages, etc.

Provide validation: Numerous scams frequently target the bitcoin market, which is a serious matter of concern.

To attract more customers to your ICO website, one must build credibility and abide by procedure validation. Consequently, your ICOs will appear more legitimate.

Display instant offers: You can imply a feeling of accomplishment or urgency to inspire the offer. Additionally, you can also emphasise the importance of agreeing before the deadline and its urgency and benefits.

For example, you may write, "3 days left for a 50% bonus," and emphasise the intent behind the promotion.

Website usability for the ICO: Usability enhances the user experience. So, always make sure that the content loads swiftly and rapidly on the page of your ICO website

To enhance traffic to your website, it is usually a good idea to add links where they are needed.

In addition, readers should be directed to the proper websites by linking in headlines and features.

Improve the website's readability: Avoid using jargon and maintain it basic to ensure people can easily comprehend your content.

Avoid overusing fonts or technical terms since they will make the website appear amateurish in comparison to the websites of other businesses that also provide an investment opportunity through the tokens they are now selling.

Future of Initial Coin Offering

As of now, investors opine that ICO tokens will furnish high returns provided that a valid business idea is explained by the issuers of ICO in a white paper. So, it is evident that there is an opportunity to profit from an ICO investment.

However, it is always best to grasp more details regarding ICO to note suspicious projects. Thus, one can research the regulatory environment, white paper, target market, and competitors.

Potential of Initial Coin Offering (ICO) in 2022:

Numerous ICO projects were started to raise money when the market for them was introduced in 2013. However, the world of digital currencies saw a profitable revolution in 2017. As a result, 413 ICO projects raised an additional $ 10.06 billion in total funds from ICOs.

Potential of ICO in 2022

Source: Coin Desk

In 2018, it raised $11.5 billion and completed 1000 projects. Furthermore, 2022 observed certain launch gains; as a result, if rules are correctly implemented, companies and investors can immediately enter the initial coin offering (ICO).

ICO in a nutshell

Beyond question, Initial Coin Offering (ICOs) are an innovative & creative approach when on the lookout for business funding. Nevertheless, investors must always be updated with the regulations.

This blog attempted to convey details on ICO to help you run through the basic and relevant information.

Happy Reading!