Giving gifts is a part of the culture no matter where you are and how long you stay. However, it is a tricky thing as well. It's hard to come up with a unique last-minute gift that still needs to be done.
So what to gift someone on special occasions?
Cryptocurrencies are no longer just for fintech geeks. Even the least technologically savvy among us have heard of cryptocurrencies, with their volatile price swings and value surges making headlines in nearly every corner of the world.
So, why not give one of the most exciting digital assets: Cryptocurrency?
From experienced to new ones, Crypto is an enormous gift for everyone. In this article, we will discuss how you gift someone Cryptocurrency.
Which Cryptocurrency would make a Good Gift?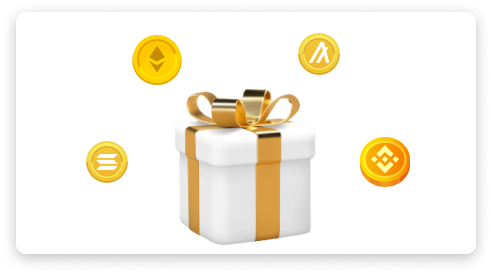 With over 9,000 active cryptocurrencies, which makes choosing one is harder than ever. Of course, Bitcoin makes a great gift, but there are many other altcoins (cryptocurrencies other than Bitcoin) to choose from.
Some popular altcoins like Ethereum, which have consistently achieved the second rank in market cap, are viewed by some to stand in their own tier. Solana, Binance Coin, Algorand, and WAXP are some other popular altcoins.
Many of these tokens have their own ecosystem, complete with DeFi apps and NFT functionality. These altcoins are perfect for those who wish to participate in these protocols. Now, if you are gifting to someone who is more familiar with this field and to those who will be more active with their coins, then you may give them a coin they already own.
Before sending your preferred Cryptocurrency, make sure the platform is capable of supporting your selected crypto coin. Because some platforms that offer Crypto gifting only support specific cryptocurrencies.
How Can You Gift Cryptocurrencies?
You can send Cryptocurrency in simple methods like popular cryptocurrency exchanges, investment apps, or peer-to-peer payment apps. Additionally, you can gift them directly from your wallet to theirs or create a wallet for them and load it with funds.

1. Exchange or Payment App
You can send crypto through three platforms which are Cash apps, Coinbase, and Robinhood.
Cash Apps:

Cash apps help you gift BItcoin to someone's $Cashtag, phone number or email address.

Coinbase:

Coinbase supports about 150+ coins and you can send any of them as a gift through this platform. All you need is the recipient's email address. In addition, you can include available greeting cards and a personalised note.

Robinhood:

If you have a Robinhood crypto account which is in good standing and a linked bank account, you can gift any of the seven supported coins.

2. Cryptocurrency Gift Cards
Many websites offer to sell cryptocurrency gift cards. Choose one that has credibility, with good reviews, and offers your needs. Then, choose the amount to gift and pay for it.
Once the payment is made, you'll get a gift card worth the amount you have deposited. The recipient can redeem the gift through the same website by entering the details on the card.

3. Crypto Wallets
You can send your coin directly to someone's crypto wallet. For that, you need to know their address. And the main thing is that you need to ensure that the coins you send are part of the same blockchain.
It will ruin the surprise if you ask the details directly to the person whom you are sending your gift to. Thus as an alternative, you could create a new software wallet or buy a new hardware wallet for them. And then, you can load the coins onto the wallet and give the recipient the recovery phrase.

4. Physical Coins
To be different, you can buy or create a physical coin with the key printed on them. You may also use a holographic sticker on the back with the key printed on it. This method looks impressive as it is custom printed on a three-dimensional printer using metal or plastic.
Nonetheless, physical coins are less secure than other storage methods. Once the gift is given, keys are used to transfer the crypto coins to the cold storage medium and then the coins are destroyed unless it is printed on a precious metal.
How are Cryptocurrency Gifts Taxed?
Until and unless the transfer exceeds the gift tax allowance, gifting cryptocurrencies are not taxable. The Internal Revenue Service (IRS) needs to be alerted only when the recipient sells the asset and realises a capital gain or loss.
If the recipient sells the gift for a profit within one year, they will have made a short-term capital gain, which will be taxed as ordinary income. Beyond that, it is considered a long-term gain and is taxed at a lower capital gains rate.
The size of the gain is determined by how much you, the donor, paid. In other words, if a coin is purchased for $100 and sold for $500 five years later, the gift recipient may be taxed on the profits if they meet the other capital gains requirement.
Though giving a gift is not generally a taxable event, how you gift them would impact the recipient's taxes later.
Is Crypto a Good Gift?
Giving Crypto is a fun way to recognize and honour someone's interests or share your interest with others. Moreover, it could be worth a lot more in the future. However, it's essential to consider whether the coin you are going to gift will be hard for the person to manage. And also consider their feelings when the gifted coin drops its value in the future.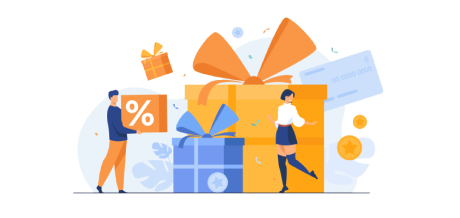 What to do with a Cryptocurrency Gift?
There are a number of ways to invest or trade your cryptocurrencies. But the available opportunities depend on many factors. Firstly the type of digital asset you received as a gift.
Today, there are around 9,314 active cryptocurrencies each with its own set of utilities, platforms, and protocols. Keeping this in mind, you may be limited to particular exchanges or applications based on your asset type and the blockchain technology used to create them.
Below is a list of what you can do with your newly acquired digital assets.
One of the simplest and most popular options for new crypto holders is to keep their gifted assets long-term – usually for at least a year. Despite the fact that cryptocurrencies are notoriously volatile, the values of legitimate cryptocurrencies frequently rise over time as more people adopt them. Thus, you can profit from holding onto some cryptocurrency by doing nothing.
People who received their crypto gifts through a broker app that also supports traditional stock trading can invest the proceeds from the sale of their crypto assets in stocks and exchange-traded funds (ETFs).
This is an excellent option for people who prefer to stick to what they know best, which in this case is stock trading. Robinhood is an example of a platform where you can use Cryptocurrency as capital to trade stocks.
Because of the increased adoption of Cryptocurrency in recent years, you can now use your digital assets to pay for goods and services. This feature is now available to PayPal users, thanks to the Checkout with Crypto functionality launched in March 2021.
In essence, when making payments, you can select a crypto payment method, and PayPal will convert your coins to fiat currencies before completing the transaction.
If your crypto assets are stored on apps that allow funds to transfer to external platforms, you can take advantage of yield-bearing crypto solutions. The idea is to transfer all or a portion of your crypto holdings into an account that will generate fixed interest based on the investment's duration. Consider it similar to putting money into a fixed deposit account. The only difference is that you are depositing digital assets rather than fiat currency.
Crypto lending is another option you can consider. This allows you to lend your holdings to borrowers and earn interest. Depending on your risk tolerance and level of technical expertise, this can be done on custodial or non-custodial platforms.
Custodial lending platforms frequently match lenders with borrowers, set fixed interest rates, and oversee the entire process. Non-custodial options, which are part of a larger group of self-executing protocols known as decentralised finance (DeFi), eliminate the need for intermediaries when borrowing or lending out Cryptocurrency.
Yield farming is a strategy for generating interest that is used across multiple DeFi platforms. This is because participants must interact with automated market makers (AMMs) or decentralised exchanges (DEX).
Staking has become a critical concept in the crypto space since the introduction of the proof-of-stake (PoS) consensus mechanism, which is a more power-efficient model for validating transactions executed in blockchain networks.
The goal is to implement a decentralised or community-focused network in which no single entity has complete control over core processes, including those involved in transaction validation.
There is always the option to exchange your Crypto for fiat at any time, regardless of the app or platform where your Cryptocurrency is stored. The best option is to sell their Cryptocurrency for fiat currency. You can either sell directly on the platform or transfer them to a crypto exchange.
FAQs
1. Can someone Gift Cryptocurrency?
Yes. One can buy a cryptocurrency gift card from online retailers that offer them or buy cryptocurrency on a registered exchange and then send it to the beneficiary's wallet address.
2. How Do You Gift Cryptocurrency to Someone?
Gifting cryptocurrencies is as simple as logging into the account where you hold them and then sending the amount of your choice to the recipient's wallet address.
3. How Do I Gift a Crypto Wallet?
You can gift a crypto wallet creating or buying a new wallet. One of the best ways is to buy a hardware wallet. These are readily available USB drive devices that are small, waterproof, virus-proof, and regarded as the safest way to store cryptocurrencies.
4. Is crypto received as a gift taxable?
Receiving a cryptocurrency gift is not considered a taxable event. You will not be required to recognize your new tokens as income. However, the way you were gifted would impact your taxes in the future.
Conclusion
Gifting Cryptocurrency is a great way to introduce someone to the world of blockchain technology. If you are planning to give Cryptocurrency as a gift, there are many ways to do so, which we have already discussed earlier.
In short, If you have a friend or family member who is into Cryptocurrency, give them some of their favourite coins. Make this Christmas memorable by gifting your loved ones with Cryptocurrency.